As a College, we are disappointed that parents/caregivers and whānau will not be able to attend our celebrations of student success and achievement in person. The silver lining is that we propose to stream live events and provide recordings to our community so that more parents/caregivers and whānau can bear witness to the success and achievement of students.
Therefore, due to COVID-19 restrictions and after consultation with the Board, Senior and Middle management, Naenae College will be delivering our celebratory events for Term 4, 2022 through the following format and amalgamation of events: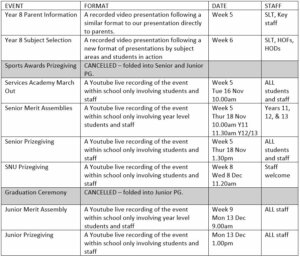 The recording of events will present its own logistical and technical challenges and will provide parents/caregivers and whānau with the opportunity to join the celebration of their rangatahi at their leisure and to share the experience wider amoungst extended whānau.  The delivery of this format will have to take into consideration privacy concerns.