Scheduled Days of Return
·        Mon 18 May:  All Year 9 Students return.
·        Tuesday 19 May: All Year 10 students return.
·        Wednesday 20 May: All senior students return.
NNC Covid-19 Health and Safety Plan 2020
Return to NNC at Alert Level 2 – Student Management Plan
All students returning for the first time will enter through the front entrance.  Everyone must:
·        Arrive in full school uniform
·        Bring their lunch as no one is permitted to leave the grounds during school hours
·        Return their laptop/Chromebook to the College on their first day returning.  They will check these in when entering the hall.
Procedure when arriving at school on your scheduled day
1.      Assemble in front of the main admin entrance.
2.      8.45am: When requested by Mr Maehe (DP) students will go through the front doors in a single file to sanitise their hands before entering the Hall.
3.      Once in the Hall students will hand in their device to staff for check-in before joining their LAR group.
Monday: Year 9 students return and any Year 10 students, not 14, who are required to return to school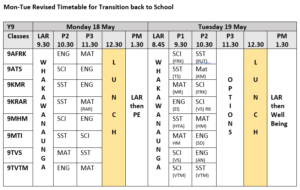 Tuesday: All Year 10 return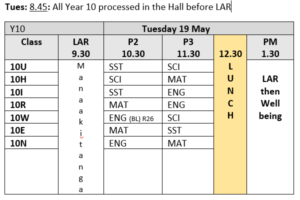 Wednesday: All Year 11, 12 and 13 students return