To the Naenae College Parents and Caregivers:
Kia ora koutou e te whānau
Contained in this letter:
• An Overview of COVID and its impact on attendance at Naenae College
• Actions to support the current COVID situation
• Advice on Initial Reports and Academic Conferencing
• Advice on COVID and Online Learning Issues
• 09 Mar 2022, the isolation period for COVID-19 cases and their household contacts will be reduced from 10 to 7 days.
Overview
I am writing to update you on our current COVID status and to reassure you that we are open and supporting learning both on-site and online to the best of our ability.
After a significant decline, our student numbers over this week have been very slowly decreasing as students and staff continue testing positive for COVID or are required to self-isolate as the result of a household positive case. Increases in student numbers are starting to show that students are returning to school having completed isolation periods. Our first cases were over 10 days ago. To date, we have been notified of 48 positive student cases and 15 staff cases. Please keep letting us know. All cases are following current COVID protocols – please note the change to the isolation period from 10 to 7 days. The balance of students currently absent are isolating due to COVID in the household.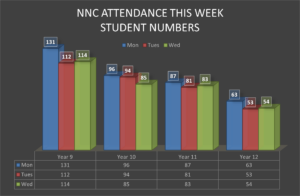 As of today, the table below represents the percentage of each Year level still attending:
Wed %
Year 9     56%
Year 10   47%
Year 11    49%
Year 12   42%
Actions to support the current COVID situation
• Rostering home Year 13 students and providing devices
• Providing on-site access to online learning for students whose teacher may be self-isolating
• Supporting classes with their 'usual' teacher
• Modifying programmes to focus on connection and well-being
• Altering Calendar events to reflect the current reality
Initial Reports and Academic Conferencing
Initial reports and academic conferencing are about reporting on how students have started at college, started their year, and how they are demonstrating our values through engaging in learning. It is fair to say that this reporting usually comes after 6-8 weeks of learning when teachers have built relationships and commenced programmes. It provides an informed progress statement and looks forward, into a year of learning and provides this information to parents and caregivers.
Not many teachers will be in a position to make this statement for students this term, let alone to make it for entire classes and this is due to COVID disruption.
The value of a report of this nature is now questionable at this time and under these circumstances, therefore, Naenae College is going to postpone academic conferencing and initial reporting until such a time as it can be meaningful and can be informed by meaningful engagement with students.
However, we will continue to reach out to connect with families and students during this time.
COVID and Online Learning Issues
• We are keenly aware that access to devices to engage with online learning is an issue for some of our families. We are keen to support this where we can and will continue to treat need on a case by case basis. This is not a lockdown and we are not in a position, nor has the Ministry provided resourcing, to send a device to every household. Please continue to contact us where your circumstances look like they might be prolonged and you do not have a device. admin@naenae-college.school.nz
• Attending school: Naenae College continues to be a safe and well resource centre for learning. We encourage students and whānau to feel confident that the best place for learning is at College if you are well.
• COVID is working its way through our community and programmes to minimise its impact have so far protected our community from the worst effects of the virus.
• 09 Mar 2022, the isolation period for COVID-19 cases and their household contacts will be reduced from 10 to 7 days.
Ngā mihi manaaki
Nic Richards
Tumuaki