Naenae College Special Needs Unit
Special Needs Unit is an inclusive, co-operative, caring environment that encourages each student to "be the best that they can be".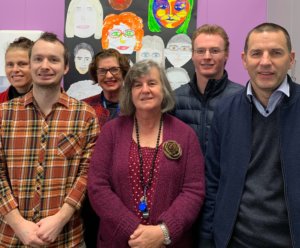 Our aims are to:
Help students grow to be  confident, caring young people able to face life outside of  College.
Use the wider school philosophies of Te Whanau Tahi and  Restorative Practice to encourage positive social interactions.
Help embrace and share their own diverse cultures through involvement in Multicultural Day.
Work closely with outside agencies for advice  and guidance re therapies and programmes:
Ministry of Education
SEA, SLT, OT, Physio, Behaviour Team
Police
Life Unlimited
IDEA Services
Disabled Resources Trust
CCS
Talklink
And others as necessary
Support ORS funded students ,and some non funded , in consultation with teachers, Senior Leadership Team and families.
Individual Education Plans
IEP's—Individual Education Plan meetings are held twice a year, in Term 1 to set goals and Term3 to review and set new goals as appropriate. We include the family, Ministry personnel, teachers and other agencies as required.
Curriculum
MAIN SCHOOL opportunities are offered as   appropriate for individual students. Students are encouraged to achieve credits towards NCEA.
SPEC: South Pacific Education Courses are offered at all levels and cover key competencies:
Thinking
Relating to Others
Managing Self
Participating & Contributing
Using Language, Symbols & Texts
We are working towards:
NZ Cert. in skills for Living for Supported Learners.
Cert. in Key Competency Development.
Inclusion
Our students take part in LAR (Learning Advisor Roopu) and whole school events e.g. Tabloid Sports and Multicultural Day.
TECHNOLOGY
ART
COOKING
PHYSICAL EDUCATION
COMPUTERS
TRANSITION
Senior students master life skills to assist their transition into the wider community.  This Includes money-handling, digital technology, accessing community and appropriate social skills and behaviours.
College Sport Wellilngton
Activities available for our students include:
Athletics, Swimming, Football, Cross Country, Basketball, 10 Pin Bowling
Education Outside the Classroom (EOTC)
EOTC is an important part of our curriculum.  We have an activities week at the end of the year. Some of our outside visits to enhance the theme topics have included Te Papa.
Commuication
With agency help we explore ways for students to communicate—photo board, Go Talk boards.
An increasing number of students are using assistive technology (e.g.  i-pads) to enhance their communication and academic achievement.
We always celebrate birthdays.
Pot Luck Dinner/Prize-giving: An awesome way to finish a year and celebrate success.
We encourage our students to be as independent as possible.  Senior students are encouraged to mentor Junior students.